December 2017 Newsletter
Hello Friends!
So thankful this season to be included in many community and holiday events. It's with gratitude that we debut new collectible artist collaborations, and continue working to support education and the arts. Very excited to join Fig Earth's Winter Solstice Market (info below) for the first time. In looking for ways to give back and improve I've found it's the little actions taken on a daily basis that can have the biggest impact. Please come by one of our December events listed here, or see the online store for what's new.
Ronni Kappos Studio Event:
The highlight of our holiday season is here! Come enjoy special discounts, sales for early shoppers, and holiday gift items. Ronni's beautiful space fills with the rich scent of mulled cider, we enjoy rosè, and delicious snacks. Come to shop, stay and enjoy friendly company in an intimate setting.
December Community Events
New School West Holiday Bazaar 2017
Saturday, December 2nd
10-3 PM.
12731 Venice Blvd, Los Angeles, CA 90066
Glad to participate in this Holiday Bazaar for the 4th year in a row. New School West has been on Venice blvd for 30 years now. They have a wonderful community of designers joining. 20% of sales, and raffle proceeds go to the Teachers Education Fund when you shop. Enjoy the chili bar (while it lasts!), baked goods, and a family atmosphere!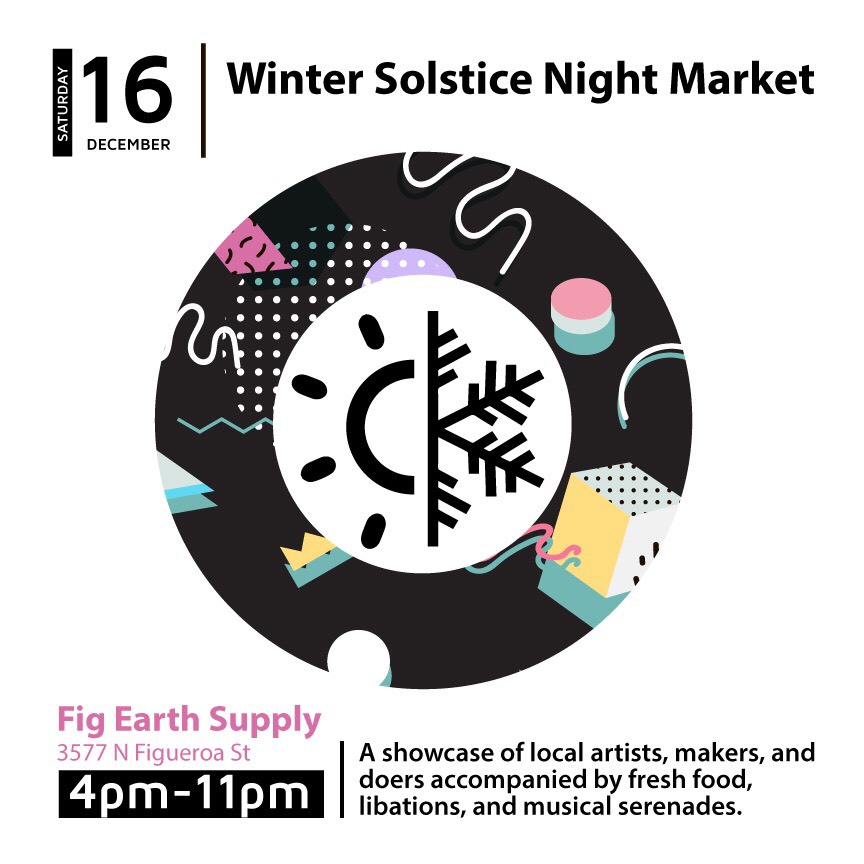 Winter Solstice Night Market 2017
Saturday, 16 December 2017
4pm - 11pm
3577 N Figueroa St, Highland Park Los Angeles, CA
It was a blast attending Fig Earth's last event as a shopper. Food, drinks, community friendliness, and music from So Far Sounds brought great energy. Other designers and brands at this market include Infinite Love Designs, personal favorite Swing Dash leather crafters, Abalone Herbals, CBD specialists Cordial Organics, and many more.
Beer & Hot Sauce Hand Linen
Give a gift that will bring a smile, and can be used in the kitchen or bathroom. Artist Justice Laub's drawings have a whimsical and playful feel that people love. We're in the second year of this seasonal gift series featuring a collectable illustrated print. Once this limited edition sells out, it's gone for good.
100% washed linen hand towel , 30" x 18"
Machine washable black ink screen printed in Los Angeles
I've long admired the work of designer and artist Jennifer Parry Dodge/ Ermie. We just launched a Fabric Dye Collaboration with two top styles online and in studio. The Harmony Tee pictured is made of silk and cotton, Jennifer dyed yardage with natural cochineal and eucalyptus dyes, and procion dyes. Stay tuned for an Inspired Profile Q&A delving into her creative process.
This gorgeous photo thanks to Alyson Iwamoto Ceramics. Ceramic earrings and necklace are by Alyson.
What Does Community Mean in LA's Design Culture?
Glass Book Magazine Editorial
Excited that the velvet Journey Top was photographed in Glass Book's latest fashion editorial. Thanks to an amazing team including stylist Allison Victoria, and photographer Lauren Naylor. For full credits, click above.