April 2018 Newsletter
Happy April Friends!
Very excited to announce the launch of our latest Upcycle Patchwork Project. These tees are sustainable, made using pre-owned garments. An artful design of patchwork and dyed silk panels is added to each one. This gorgeous photo featuring two of the tops is from the shoot The Other Side, featured in Schon Magazine. Captured by photographer Lauren Naylor, and stylist Allison Calhoun. (Check out Lauren's collective: Supervirgo LA highlighting⚡️female creatives ⚡️ women-driven work. )
Come join us Sun April 22nd from 11am - 3pm at Myrtle, in the Row DTLA, to celebrate Earth Day with women-owned businesses focused on sustainability. Shop vintage and eco-friendly womenswear, homegoods and accessories.
Lady lead companies include: Fair Season, Love Faustine, Corrin Ceramics, Myrtle, Jean Franklin, and Laura Estrada Jewelry
All businesses will donate 25% of profits to the purchase of reusable Lena menstrual cups distributed to homeless women in LA through women's shelters. ✨ These environmentally friendly products make women's lives easier a little every day.

We're doing a give away at this event! All you have to do is show up and leave your contact. Winner receives an Upcycle patchwork tee of their choice (from stock available).
Eastside Handmade Spring event is happening! Sat April 28th, 11a-5 at Amsterdam Modern Highland Park
This event entitled BLOOM includes panel discussions, wellness activations, and a curated market of 40+ artists and makers.
BLOOM will feature wellness products, art, elevated plant medicine, CBD tinctures, tea, chocolates, flower essences, apothecary items, adaptogens, plant-based food, and endless delights from Mother Earth. Artisan creations include pottery, paper goods, jewelry, and sustainable clothing.
We will bring plant dyed items made in collaboration with Jennifer Parry Dodge like the tee below! As well as all new items for spring and summer :) See you there!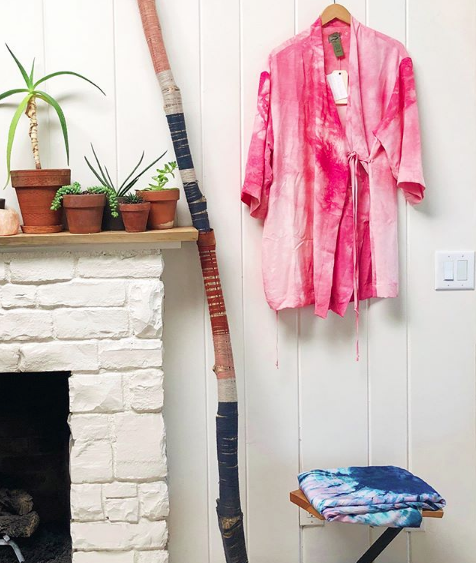 The brand new Eskina Space at Ojai Rancho Inn just opened at the beginning of 2018. It's owned and curated by friends Chelito and Chris. Their eye for well designed goods showcases ceramics, home, and gift items from the So Cal region. Happy to announce they are carrying our lounge items intended to maximize your resort vibes. Stop in when you vacation in Ojai.
XX J